Jun
10
Sat
88th Founder's Day Picnic

@ Mooney Grove Park Arbor 9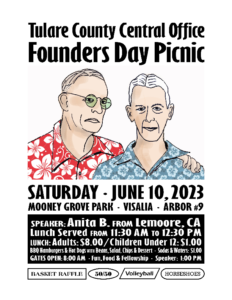 downloadable Founders Day Picnic flyer
Tulare County Central Office Founders Day Picnic
SATURDAY • JUNE 10, 2023 MOONEY GROVE PARK • VISALIA • ARBOR #9 SPEAKER: Anita B. from Lemoore, CA Lunch Served from 11:30 AM to 12:30 PM LUNCH: Adults: $8.00/Children Under 12: $1.00 BBQ Hamburgers & Hot Dogs with Beans, Salad, Chips & Dessert • Sodas & Waters: $1.00 GATES OPEN: 8:00 AM • Fun, Food & Fellowship • Speaker: 1:00 Basket raffle 50/50 Volleyball Horseshoes
PI & CPC Working Group – online

@ Zoom
Jun 10 @ 9:00 AM – 10:00 AM
From: Dr Bob Smith
Sent: Thursday, January 12, 2023 3:40 PM
To: PI CPC East Bay Ca
Subject: PI & CPC Working Group
Hi Working Group Members,
Happy New Year to all! Sending a friendly reminder to join us for our monthly meeting this Saturday.
Joslyn from Northern California Al-Anon is joining us to follow up on her digital outreach campaigns with CBS and others. She will be presenting analytics and other information. We also have more information about the February 11th Service Workshop hosted by this group and the Grapevine & La Viña Working Group.
The login details are below. The flyer is also attached and now has the link to the Zoom space.
Zoom PI CPC Working Group Meeting info.
Topic: PI CPC Working Group
Time: January 14, 2023 09:00 AM Pacific Time (US and Canada)
Every month on the Second Saturday
Please download and import the following iCalendar (.ics) files to your calendar system.
Monthly: https://us02web.zoom.us/meeting/tZMld-qprzguHdCihp6a2atZMpV8A8GRwMkf/ics?icsToken=98tyKuGvpjspG9WWtB6DRpwEGoigb-vzmHZbgqd-lRf1VSEBYxfMG_J0apMnN-rH
Join Zoom Meeting
https://us02web.zoom.us/j/87803113474?pwd=TzFtMEpIbkZBSXF0V0ZVc1NRMVZOUT09
Meeting ID: 878 0311 3474
Passcode: 411
See you on Saturday,
Jen
Yours in service.
Tim Counts
Lead, PI & CPC Working Group
Hayward, Ca.
The A.A. Preamble
Alcoholics Anonymous is a fellowship of men and women who share their experience, strength, and hope with each other that they may solve their common problem and help others to recover from alcoholism. The only requirement for membership is a desire to stop drinking. There are no dues or fees for A.A. membership; we are self-supporting through our own contributions. A.A. is not allied with any sect, denomination, politics, organization or institution; does not wish to engage in any controversy; neither endorses nor opposes any causes. Our primary purpose is to stay sober and help other alcoholics to achieve sobriety.
Reprinted with permission of A.A.Grapevine, Inc
The Tulare County Central Office
This web site is maintained by the Tulare County Central Intergroup of Alcoholics Anonymous, located at 449 E. Maple St. Exeter, California. The Tulare County Central Office is funded by AA groups in the communities of Corcoran, Cutler, Dinuba, Exeter, Farmersville, Hanford, Ivanhoe, Lemoore, Lindsay, London, Pixley, Planiview, Porterville, Three Rivers, Tulare, Springville, Visalia and Woodlake.
Web site privacy policy: Tulare County Central Office collects no data from anyone visiting this web site who does not log in. No analytics: no tracking whatsoever. Your privacy and anonymity are important to us. Administrative users who log in will get cookies from the login page.